Hi! I'm Ashley from
Lil Blue Boo
! Thank you so much Kierste, for including me in your Summertime Series!
Now that school's out it's time to keep the kiddos busy! I have gathered together a few of my favorite tutorials ranging from clothing to travel keepsakes that will help keep you entertained in the summer months.
Enjoy!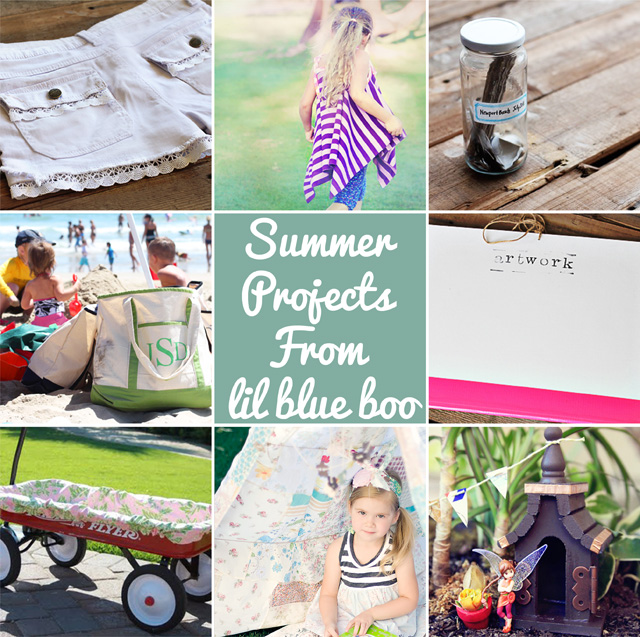 1. Do you have an old pair of shorts that need a makeover, or perhaps they are a little too short? Add some pretty lace trim with this
tutorial
.
2. Make this super easy
Square Top
for your little girl…from a simple square piece of knit fabric.
4. Give your plain canvas tote a little personality this summer and monogram it. Here's the
tutorial
!
5. Now that school is out are you wondering what to do with all of the art you child has collected the last year? Make a
portfolio
for art storage. Label it with your child's name and the year.
6. Does your little one do a lot of cruising in their wagon over the summer? Create a
wagon cover
to keep it from getting too hot in the sun, or too cold in the evening.
7. Use scrap fabric to create a
patchwork tent
for the backyard…..perfect for reading or playing make believe.
8. Looking for an easy and inexpensive project to do with your child that will keep them busy for hours? How about a
mini birdhouse fairy village
!?
Have a safe and happy summer!
…..
Thank you so much, Ashley! What fantastic summer ideas! I love the patchwork tent–my kids would LOVE it!